I've seen a plethora of MCs come and go over the years but I've never witnessed any of them that can affect and possess you on a spiritual level; be it through signature soundfx or ad-lib. D Double is the epitome of iconic. Nuff MCs came up thinking they could make sounds and buss after hearing D Double but the clear difference between these Michael Winslow-esque MCs and D is this; Double actually integrated his unique sounds into his bars which not only made them much more dynamic, but often made light of some of the most graphic and -in the best possible way- horrific content.
"Bullets will fly like birds in the sky, hit one of your bredgins in the eye so next time think twice before you try and come against me [me, me]." – D Double E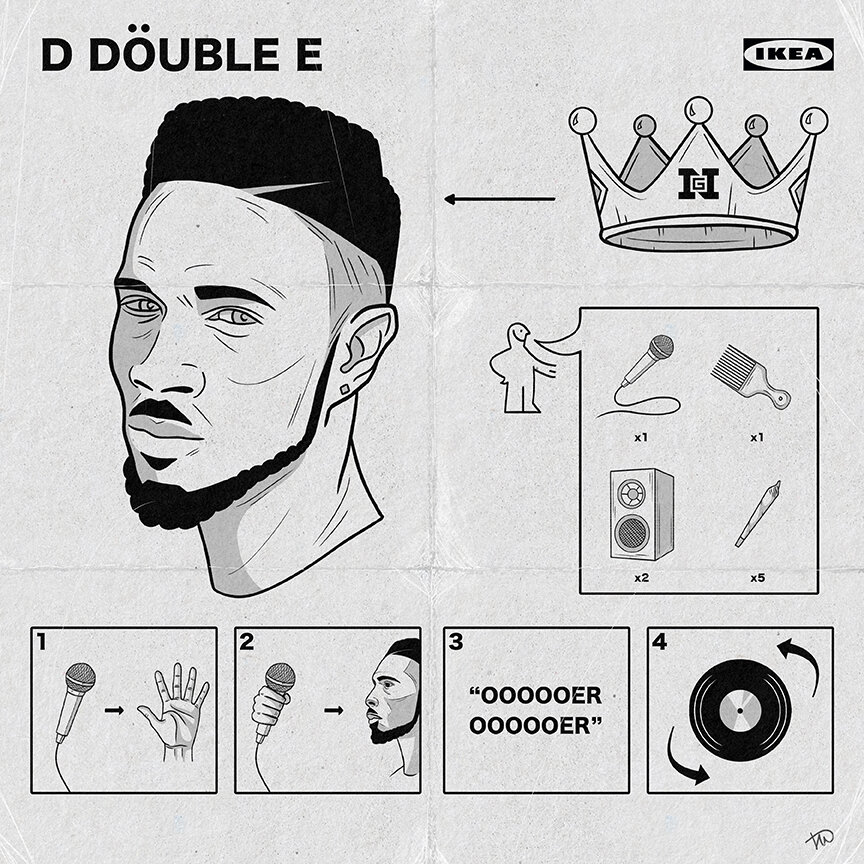 D Double E is the epitome of poetry in motion, often incorporating different cadences and melodies before that was even a thing. We're talking way back in the early 2000s, D Double was by far the most unique with style to match, often having the air of reverence and charisma that is often associated with the late 80s first generation of Dancehall artists than a cornerstone MC of a genre that at that time didn't have a name. He is perhaps the most decorated and celebrated, often imitated to a degree but his imitators lacked the balance of panache and substance to stand the test of time. I'm sure a whole host of names pop up but let's face it, the content was absent, it's more Police Academy impressions than painting of vivid pictures and quotables.
As comparisons to the Lord God of all realms will be of the highest form of blasphemy, D Double E is someone that I'd give the title of High Priest or the Chosen One to fly the flag because the gift bestowed to him is something that nobody else is on par with. We should celebrate someone like D Double who's brought joy to many over the years and has been a testament to the value of being not only oneself but having the confidence to do things your way, rather than pandering to commercial and mass appeal which I can't say for other artists who preside alongside D Double E on my Mt. Rushmore of Grime; Dizzee, Wiley, and Kano -no disrespect to any of them as everyone has the right to explore their artistry.
There is only one D Double E, there were none before him and there shall be none afterwards. This is a monumental feat which alongside releasing his debut album 'Jackuum' in the same year, deserve to be celebrated. A round of applause to the producers of the track Star.One, director Tom Kuntz, creative agency Mother, and whoever created the Change.org petition to get the track released for Christmas.