Sunday Lunch, Bromley Town Centre
Set the scene
It's sunday, I've had all of four hours of sleep after binge watching half the second series of one of my favourite Netflix discoveries, and I'm famiiiiished. There are zero options for hot food for my usual budget of 5GBP, except McDonald's and I don't wish to go there for fear of feeling seedy afterwards. You could go to M&S for a meal deal but I would either end up with a cold sandwich or something that wouldn't quite satisfy my taste buds.
Lost 🤷‍♂️
I strolled around aimlessly, not knowing what to eat, I even considred going to Nando's but I didn't want anything too heavy as there was only a few hours between my lunch and dinner -due to be big with cake on the menu after work- which also ruled out places like GBK. I felt lost, I began beating myself up wondering why I hadn't made lunch in advance.
How can I get caught slipping with no lunch prepared, mid-month, in the longest pay period?
El Dorado
The feeling of defeat was real. I was about to give up. I even considered Franca Manca!? [I'm not a fan of pizza, it's glorified cheese on toast if you ask me! Prove me wrong] I looked over at Zizzi and thought 'Dead!', Café Rouge and thought 'Dead!', ASK Italian 'Dead!'. Everything 'DEAD!'… Until I saw Benito's Hat with their exotic facade; peaceful and inviting colour scheme, a tree, outside seating, it resembled more of a paradise oasis than place to eat, after my fithteen minute trek past Yo-Sushi!, through M&S and out into the barren lands of high street chain restaurants.
The moment I hit the corner, passing the tri-section of Widmore Road, East Street and Market Square, I felt as though I was the last surving conquistador who had finally made it to El Dorado; I had successfully navigated through indiginous tribes, all manner of monster, myth and rainforest. Now I'm at the edge of the cliff looking out unto a dramatic clearing of rainforest and canopy. I can see the promised land, my feet planted firmly at the start of a downward trail. If this were some epic adventure film franchise, there would definitely be a waterfall and a drone shot to express the magnitude of discovery.
I have arrived!
Time to Eat
I wanted to bask in all things Guacamole and mild salsa, drizzled over warm tortilla chips. I wanted the sauteed veg with the diced tomatoes, shredded lettuce, sliced onions and cheese. I wanted three tacos but settled for two -obviously I left full, but I wanted it all. I wanted a bottle Guava juice, I looked at the price of it all and said "Fuck it, lets get lost in the sauce!". So I did, unapologetically with no regrets.
I would like to order
Sauteed Vegetable Tacos 🌮 (£5.10 GBP)

[a pair of tacos w/ free Guacamole 🥑]

Mexican Soda – Guava Jarritos 🥤 (£3.50 GBP)
Total = £8.60 GBP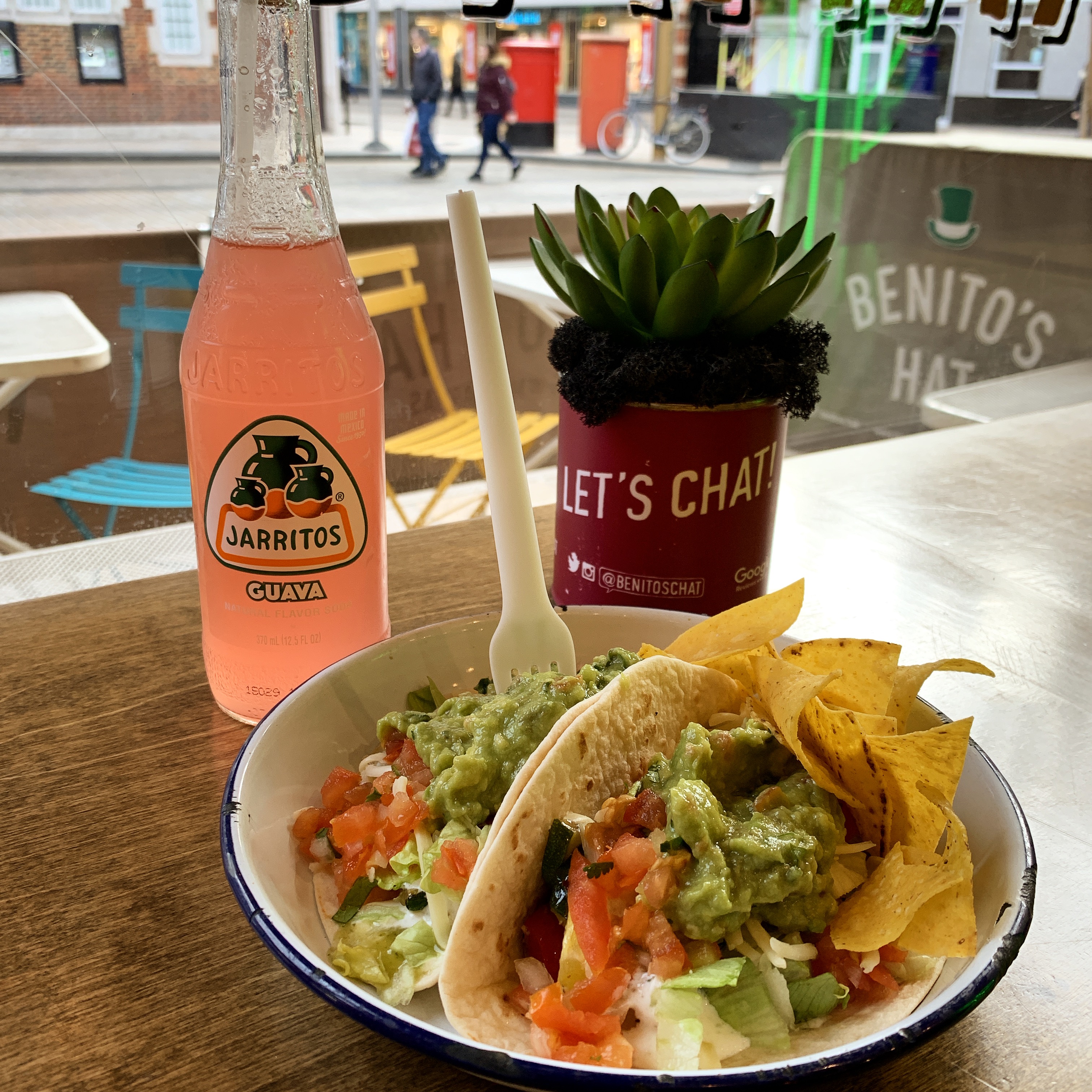 Yes I could've got a bottle for 2/3 less on #Deptford High St, yes I paid nearly a tenner [£10 GBP] for lunch mid January [arguably the most awkward month to navigate financially] but you know what, that £3/5/7 GBP meal deal from elsewhere equates to cold food and next to no #flavours.
The Verdict
Pros 👍: Faultless Flavours that consistently exceed my expectations. 🥰
Cons 👎: Dry tortilla chips with my tacos. No sawwwce [Salsa Verde]. Not even a drizzle, or even a drip, like they usually do. 🌵
Rating: 4.8/5
Similar or polarising experience, better recommendation for a taste of Mexico?
Tell me what you think 💭, share your views below or via the comment section on Instagram.